CpaCraft - Integrate CPA with Bukkit | Earn thousands | Easy setup | 100% FREE!
Introduction

Hello guys, my name is Farouq Aldori. I'm basically an internet marketer and a Minecraft server player that lives in Sweden, today I'm going to present you my new plugin that will hopefully make you more money and even make your server more fair for your free players.

The idea

I was playing a Minecraft server the other day and I saw how on many of the servers that I played on, those who donated often had better items, better privileges and better server experience overall. I asked myself, why? Well because the server is dependent on them.
After looking around in many servers I came to a conclusion that only about 10-20% of the overall server players on a server actually donate, that creates unfairness for both parties:
The donators:

helps with the server costs and allows the other ~80% to play the server completely free.

Normal players:

have less in-game items and are often weaker/poorer in game than those who donate.
So I thought to myself, there must be a solution to this problem and after researching I find it. Today my gents, I present you CpaCraft!
Sounds good but what is "CpaCraft"?

CpaCraft is a minecraft bukkit web plugin that integrates CPA (Cost per action) marketing with Minecraft, allowing your users to get your premium content for free, yes that's correct. Premium content for free who wouldn't want that?

How does CpaCraft work?

Using CpaCraft, you will be able to create a web shop where the main currency is points. Points can be earned by completing surveys and for each survey completed, your user will be rewarded with a specific amount of points that later can be exchanged for ranks, item packs and more.
There is more to it, earning points isn't only through completing surveys! Your users can earn points from referring other users to your server to increase the popularity and gain a set amount of points. All this is completely customization-friendly!

Surveys, What are those "Surveys"?

Advertisers uses our platform to reach potential customers in form of leads, for each lead delivered (survey completed) we will get
paid a set amount of money, we take a small commission and the rest is all yours. Most of the surveys are completely free and there
are some others that requires a simple purchase which often pays more than free surveys.

CpaCraft features
Create a web shop and integrate it with your server

Add items that user can buy for points

Increase your server publicity with our referral feature

Access detailed statistics that allows you to track every lead

Design your web shop as you please with CSS
It sounds good, but how much can I earn?

That depends on your server, to put it into short terms. Imagine offering your premium content for FREE, how many users will actually spend some time completing surveys for it?
You do the math.

Is setting CpaCraft hard?

Not at all, anyone with reading ability should be able to do it. If you still have problems however, just send me a private message and I will personally help you via Team viewer or Join.me

​Enough text, show me pictures!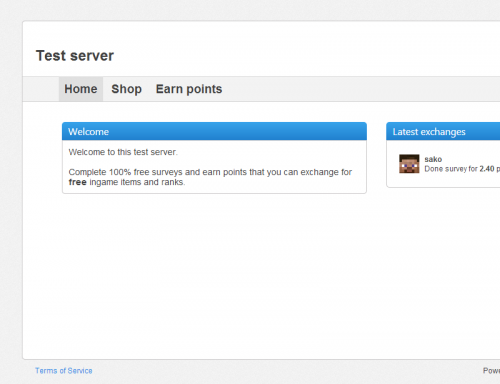 Are pictures not enough?

http://cpacraft.com/testserver <- Live demo

What are you waiting for?

Earn money from the ~80% of players that aren't generating any money for your server cost, join CpaCraft now!
Got questions?

Add me on Skype: HunterVPS
or reply in this thread!